Genuine Toyota Accessories
Select a vehicle or scroll down to learn more about genuine Toyota accessories.
Cars & Minivan
Trucks
Crossovers & SUVs
Hybrids & Fuel Cell
Paint Protection Film for the Door Cups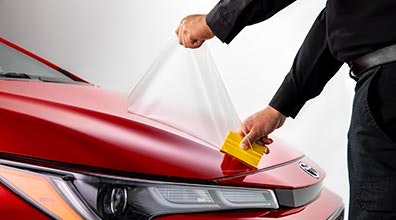 Paint Protection Film for the Hood
Paint Protection Film for the Mirror Backs
Featured Accessory
PAINT PROTECTION FILM
Genuine Toyota paint protection film helps protect your Toyota paint finish from chips and scratches.
Multiple film layers of durable, nearly invisible urethane help provide protection and resist discoloration.
Designed for specific sections of the vehicle that are most prone to chipping.
Helps protect the hood, fenders, rear view mirrors and exterior door cups from fading and chipping
Available in a kit for the hood, fenders, mirror backs, door cups and front bumper (each sold separately)
The Genuine Toyota Accessories Warranty will apply only when the installation is performed by a trained Toyota-approved installer. Please see dealer for details.
Finish off the Tundra's bold style with these shiny exhaust tips.
Overview
Precision-Engineered for Style and Individuality
Genuine Toyota paint protection film helps protect your Toyota paint finish from chips and scratches.
Whether you're interested in enhancing performance, styling or protection, only Genuine Toyota Accessories give you complete confidence and peace of mind in the way you have chosen to personalize your Toyota – because only Genuine Toyota Accessories are specifically designed, engineered, tested and approved for use on each Toyota vehicle.
To learn more about these and other benefits of Genuine Toyota Accessories, select from the menu above.
Genuine Toyota Tow Hitch Receiver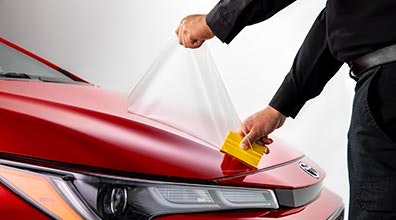 Yaris Navigation System
Engineering
Who Thinks About Tow Hitches?
Whether you're hauling equipment to the construction site or taking a boat to the family's favorite vacation spot, you work hard and play hard. But one thing you probably don't do is spend a lot of time thinking about tow hitches.
Toyota engineers, however, do spend a lot of time thinking about hitches. That's why every Genuine Toyota hitch features a vehicle-specific design precisely engineered to help achieve the maximum tow rating. This is accomplished by taking into account the specific model's frame, engine, transmission and towing capacity — ultimately providing a hitch that matches the capacity of the entire vehicle. 39
For example, establishing the departure angle of the hitch and ball mount is critical, because if the angle and distance between the back tires and ball mount are too far apart, the ball mount may scrape the ground while towing on an incline.
Toyota Tundra with Skid Resistor™ Bedliner
Toyota Sequoia with Hood Protector
Design
For Our Engineers, Good Looks Aren't Everything
We know you want accessories that not only improve the performance of your Toyota, but also look great doing it. That's why Genuine Toyota Accessories are designed to excel in both performance and style. Rear spoilers, body side moldings and doorsill enhancements add individual styling that helps you get noticed wherever you drive.
And nothing delivers a bold, sporty and stylish appearance to your Toyota like Genuine Toyota alloy wheels. Our alloy wheels are designed to complement the overall look and feel of your Toyota and provide that level of personalization you crave.
But don't judge our wheels by looks alone. Manufactured to the highest standards, Genuine Toyota alloy wheels are lighter in weight than standard steel wheels and can improve the overall efficiency of your Toyota's performance. Toyota engineers have conducted extensive ride, handling and strength tests designed not only to maintain the integrity of the ride and handling characteristics of your Toyota, but also to ensure an improved driving performance you can feel and see.
Toyota Tundra - Tube Steps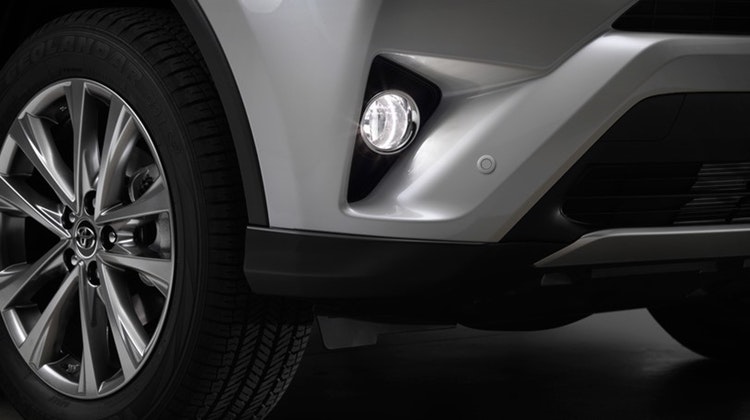 Toyota RAV4 Fog Lights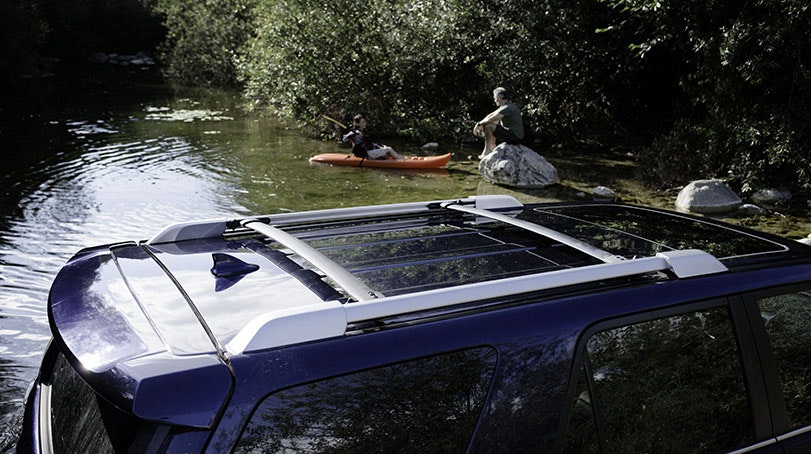 Toyota 4Runner with Roof Rack Cross Bars
Safety
Reliability and Safety Are in Every Genuine Toyota Accessory
Product reliability and safety are essential to every Genuine Toyota Accessory we design and build.
In addition to computer simulations and certified lab testing, Toyota engineers test Genuine Toyota Accessories in real-world environments.
Our engineers also conduct extensive structural integrity tests to evaluate the dependability and toughness of our running boards. Made of sturdy material with skid-resistant surface, our running boards provide step-assist to passengers, for easy vehicle entrance and exit.
Genuine Toyota Accessories — reliability and safety you can rely on year after year and mile after mile.
Warranty
Our Warranty Travels with You
If you are like many Toyota customers, you plan to drive your vehicle for many miles. Genuine Toyota Accessories have been specifically designed to comply with Toyota's safety and reliability standards. Genuine Toyota Accessories will help you maintain peace of mind for years to come, as they give you complete confidence in your decision to personalize and customize your Toyota.
Should your Toyota vehicle with Genuine Toyota Accessories ever need service, Toyota-trained technicians, using the latest diagnostic tools and Genuine Toyota Parts, will service your vehicle from any of over 1,200 Toyota dealers across the United States. They ensure your Toyota is repaired to the manufacturer's specifications — a valuable advantage when it comes time to resell.
When purchased at the same time as your new vehicle, only Genuine Toyota Accessories are backed by Toyota's 3-year/36,000-mile New Vehicle Limited Warranty, valid at any Toyota dealership nationwide. For accessories purchased after the new vehicle purchase, the coverage is 12 months, regardless of mileage, from the date the accessory was installed on the vehicle, or the remainder of any applicable new vehicle warranty (whichever provides greater coverage).
TRD Pro
At Toyota Racing Development (TRD), competition teaches us how to continuously improve our products. Each part is designed, engineered and manufactured for maximum performance and reliability, to deliver the toughness and reliability that define every Toyota product. So let's get out and push the limits. And then break them.